Mission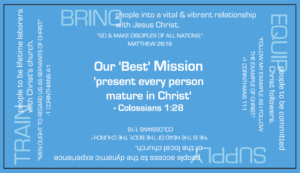 Our "BEST" Mission:
'Present every person mature in Christ' -Colossians 1:28
Bring people into a vital & vibrant relationship with Jesus Christ.
"Go and make disciples of all nations." – Matthew 28:19
Equip people to be committed Christ followers.
"Follow my example as I follow the example of Christ." – 1 Corinthians 11:1
Supply people access to the dynamic experience of the local church.
"He is the head of the body, the church." – Colossians 1:18
Train people to be lifetime laborers with Christ's church.
"Men ought to regard us as servants of Christ." – 1 Corinthians 4:1